Make it Monday
So today I am going to attempt to join up with
4th grade Frolics
for the "Make it Monday" linky party.
I am going to share two "make its"; one for school and one for home.
Many of you know that I've been going through my Pinterest boards and recording what I need to do/make/find from my pinnings.
I just got finished with my primary literacy board.
One of the things that I wanted to do was to make a few of the games I found there.
Over the year I've been saving empty Kool-Aid and French's fried onion containers to use as game storage.
I think they are perfect because little hands will fit inside them without getting stuck. They are also a good height for objects like cards, Popsicle sticks, or anything that might be a part of a game.
I decided to make my version of
Scoop and Spell
that I pinned from pinterest and my take on the Scatergories game.
I call it
Big Beginnings
. I use the alpha die and timer from the Scatergories game and make up my own categories for the students to use.
Unfortunately
my printer is broken and I can't print out my categories that I put inside the container so there isn't a picture to show you. When I can I'll
re-post
with a picture of the recording slips.
Maybe
that will be my next Friday Freebie! For Big Beginnings, I put the dice and timer, a few golf pencils, and the recording slips in the container. For Scoop and Spell, I put the tiles from old Scrabble games, golf pencils, and the recording slips for spelling words into the container. All you need right inside and you are ready to go!!!
Sometimes I print things from the computer to make labels and signs for my games/stations but today I was in the mood for scrapping (and my printer is on the blink).
It's because of another project I am working on as a gift for another cousin's wedding present.
But that will be another post…
First, I measured the containers and cut scrapbook paper to match the size of the containers.
Next, it was time to put the papers together to make a label. To fancy it up a bit, I cut some
smaller papers and layered them upon one another. I used roller tape to adhere the papers to each other.
Then, I used scrapbook alphabet stickers to spell the title and attached it to the front of the papers.
Finally, I put the finished label onto the container using scrapbook roller tape. There you go!!!!! Games to go in the word work section!! Soo0o easy, literally it only took me 20 minutes for each game!
I am enjoying my cake decorating class so much that I decided to share the recipe for buttercream icing that I use to decorate my cakes/cupcakes. It isn't anything I've made up. It is like everything else I do, search the Internet and blogs, try it the way I read it, then tweak it to meet my own needs. So the original recipe I found called for shortening only. But hello…it's BUTTERCREAM ICING… not shortening icing!! So I decided to mix both. I mean, the icing has to have butter in it (like Paula Dean says…use your best PD voice, "ya'll everything is better with butter!") Anywho~here is the recipe:
1 cup (stick) of butter – has to be real butter
1/2 stick of shortening – I used Crisco
1t vanilla (I use the clear so the icing comes out whiter, however, regular vanilla doesn't really make the icing dark)
4 c confectioners (powdered) sugar
*** one pinch (really just a pinch) of salt to cut sweetness
Blend butter and shortening together until very creamy (about 3-4 minutes). Add vanilla and mix one more minute. Then add sugar, one cup at a time. You'll need to scrap the sides and bottom between each cup. After you mix in all 4 cups add the milk one TBL at a time until you get the consistency you desire. ***If you want to cut the sweetness, add a pinch of sugar. BUT, blend really well (at least another minute) so you can't taste the salt. If you are using it to ice the cake only, I'd use both tablespoons of milk. If you are going to decorate using tips, I might only use 1 tablespoon because you will want a stiff consistency.
To make it chocolate (like the one I am posting)
You'll need ¾ cup of cocoa or 3 squares melted. NOTE: You will need to double the amount of milk you add. What I do is add the cocoa to the bowl and after I add the one cup of milk I add a TBL of milk too. For some reason the cocoa makes the mixture sooooooooo stiff. If you are using a hand mixer get ready for a workout!! It's times like this that a stand mixer is pretty awesome! Well stand mixers are pretty awesome all the time. No question there… The icing is really great. Don't forget the pinch of salt if you want to curb the super sweet taste.
I hope you all enjoy these shares and hop on over to 4th grade frolics to check out more!!!
4th grade Frolics
PS... I just saw that Tonya at
Tonya's Treats for Teachers
is having a fun give away to celebrate her 200th follower. She is sooo talented and funny. Please stop by and enter! I've followed for quite sometime ever since she started her first website. She is a part of the pro-teacher community and that's how I learned of her. You won't be disappointed!!!
http://i1212.photobucket.com/albums/cc453/eblecki/treatsbutton.png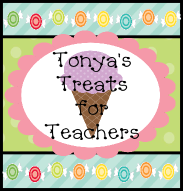 "Lift me up LOVE from the bottom up onto the top LOVE, everyday"